What are the SEO workouts?
The workouts are actionable SEO exercises focused on a particular task, like improving your internal linking structure or cleaning up outdated content. These tasks can be quite overwhelming at times, especially when you have a large website. Let Yoast SEO take you by the hand and quickly guide you through these repetitive SEO tasks.
Keep your site in top-notch shape to improve your rankings
Guides you with repetitive SEO tasks
Spot opportunities for SEO optimization
Easier improve your content to rank higher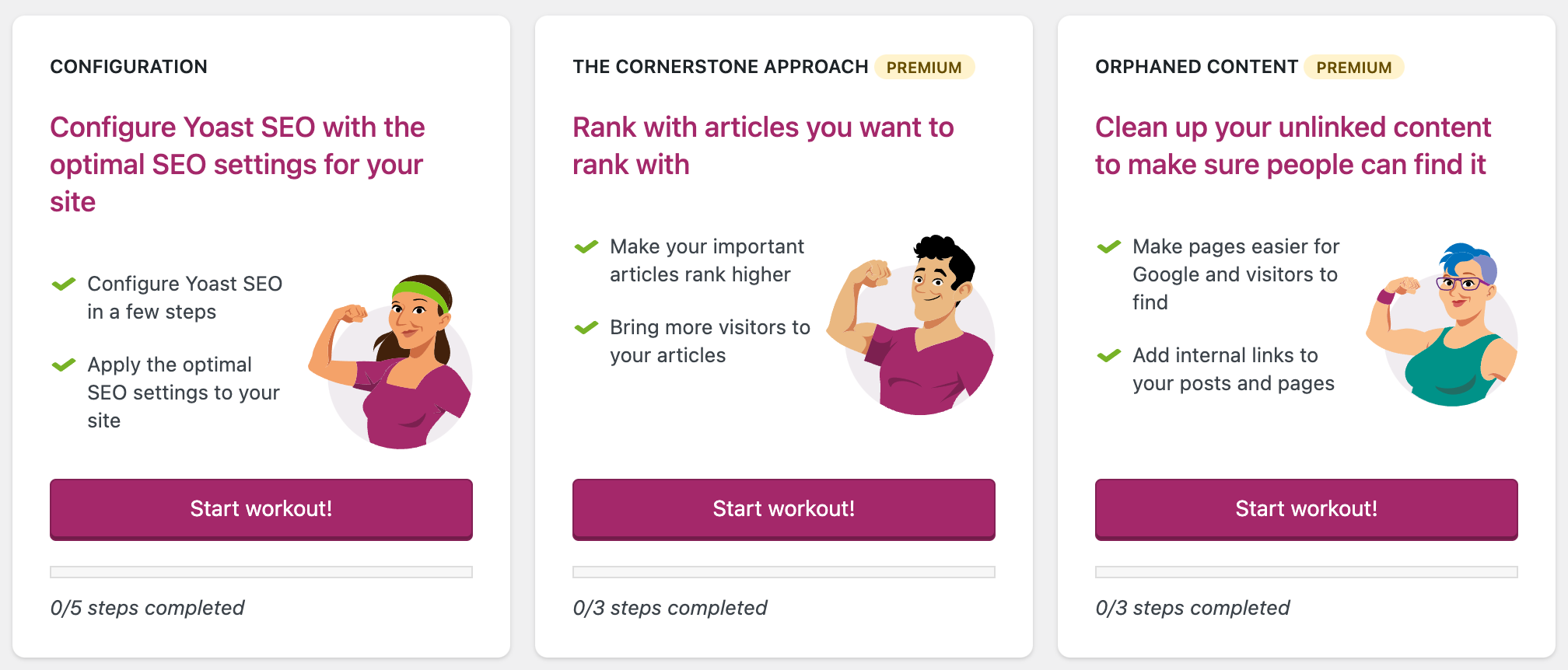 Unlock all SEO workouts in Yoast SEO Premium
Get this feature and much more for your WordPress site with the Yoast SEO Premium plugin!
---
SEO workout #1: Configure Yoast SEO with the optimal settings for your site (free)
This workout helps you set up Yoast SEO in the right manner, so that you can kickstart your website's SEO. It covers essential settings and immediately introduced yourself properly to Google.
Doing the workout, is like handig Google a business card with your name, logo or social media profiles. The more you provide to search engines, the better they can understand it. As a bonus, you increase your chances on getting a knowledge panel of your own!
SEO workout #2: Rank with the content you want to rank with (premium)
You can't control everything Google does, but there is a way to improve its ranking of the right article for the right keywords and search intent: great internal linking. Getting your internal links (back) in shape is essential — it helps you rank with the content you want to rank.
In this 3 step SEO workout, you'll work on your most important content: your cornerstones. You'll learn how to find out where your cornerstones are, how many links they have, and where to add links pointing to the cornerstone. This workout will help you rank with your best content!
SEO workout #3: Clean up your unlinked content to make sure people can find it!
Content that doesn't get any links from other posts or pages on your site is what we call "orphaned content". As a result, this content is hard to find, for both Google and visitors. Posts and pages need internal links to them, to fit into a site's structure and to be findable. With this workout, we'll help you update your orphaned content and make sure you have links pointing towards them!
How to start the working out?
It's easy! You can find this feature in the Workouts section in the SEO tab of your menu. From there, choose a workout and start working towards great SEO fitness.
These workouts are just the beginning of what's to come. We will keep expanding the SEO fitness workout library with new exercises to help you optimize your website. It's just like a personal trainer, but then for your website. How awesome is that?!
Unlock all SEO workouts in Yoast SEO Premium
Get this feature and much more for your WordPress site with the Yoast SEO Premium plugin!
---
Let Yoast SEO help you win the search rankings
Discover all the features of the Yoast SEO for WordPress plugin.