Distribute your keyphrase evenly to keep your content on topic
Keep your writing focused and on topic
Help users and search engines understand your content
Avoid over-optimizing
Using your focus keyphrase when writing online can be tricky. You need to keep the text engaging while sticking to your main point. At the same time, you need to be careful and balance your use of the keyphrase. That means you should use your keyphrase often, but not too much. If you use it too much, your audience will find it hard to read. Use it too little, and Google may not be sure what your text is about. Managing your keyphrase distribution is tricky. So what do you do?
Optimize your keyphrase distribution to to help your content rank
Yoast SEO contains a keyphrase distribution check. It makes sure that you balance your keyphrase use in your writing. The results? People will enjoy reading your texts and come back for more, while search engines will understand them and give them higher rankings!
✅ Make the topic of your text clear by including the keyphrase right at the start
The introduction is your best chance to leave a good impression and get people to keep on reading. Make it count, by including your focus keyphrase in it. It will help you direct the spotlight on the most important topic right at the start. And it will give your readers and search engines a good idea of what your page is about.
✅ Help search engines understand and rank your content
A balanced use of your keyphrase increases your chances to rank. Why is that? Because search engines want to provide the best answers to their user's queries. When you use the keyphrase equally in all parts of your text, the search engine will conclude that it is a text of high quality. So, it is more likely to push it up in the search results.
✅ Don't let optimizing for keyphrase distribution compromise the quality of your text
To avoid making your texts sound unnatural and over-optimized, Yoast SEO Premium lets you add a related keyphrase and keyphrase synonyms. It also recognizes the different word forms of those phrases. Your readers will be delighted if optimization does not get in the way between them and the message of your content. Search engines will also appreciate your effort, which can contribute to your rankings.
How does it work?
There are two checks in the SEO analysis of Yoast SEO that can help you distribute your keyphrase well: the keyphrase distribution check and the keyphrase in introduction check. You get a green light when you use your keyphrase in the introduction and when you have distributed it well in the text. An orange and a red bullet mean you need to do some more work.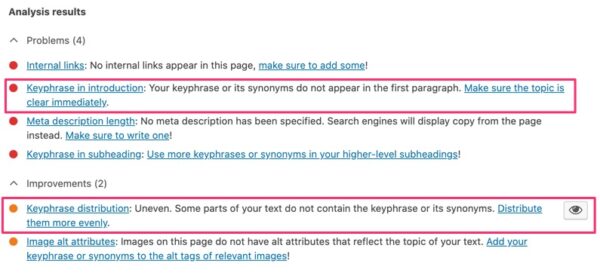 Both checks contain links that you can use to learn more about how to improve that aspect of your writing. In case you haven't used your keyphrase in the introduction, the solution is simple – edit the introduction paragraph. The keyphrase distribution check also has an eye button. Click on it to highlight the spots in the text that contain the keyphrase. That can help you get a bird's eye view of your text and decide how to distribute the keyphrase more evenly.