Adapting your content SEO strategy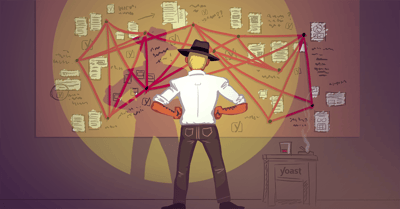 If you're serious about your SEO, you've probably set (implicit) goals on what you want to achieve. Perhaps you want to rank in the top ten search results for a specific keyword. Maybe you want your organic traffic to rise with a certain number. But what do you do if you are unable to meet your goals? Simply reset your goals? Or do you adapt and improve your SEO strategy? And how should you do that? In this post, I'll talk you through the most important and effective tactics in content SEO strategy that'll help you to achieve your SEO goals.
Why set SEO goals at all?
If you set SEO goals, chances are much higher your content SEO strategy will be successful. Specifying your goals will give you the motivation to meet those goals. They will give focus to your strategy. Also important, you'll be able to measure the success of your SEO strategy, if you make your goals specific.
You could set goals for ranking top 10, top 5, top 3 or taking the number 1 position in the search engines for specific terms. You can also set goals for the amount of traffic you want to attract from the search engines. Make goals specific and put deadlines on them. That'll help you become extra focused and determined to achieve your SEO goals.
Not meeting your goals isn't that bad…
It can be disappointing if you're unable to meet your SEO goals, especially if you put a lot of effort into your content SEO strategy. No worries, though. The next step is to analyze what went wrong. If you analyze and evaluate properly, you'll uncover valuable information. That information will help you to set realistic new goals and to improve your SEO strategy on all fronts.
Are all technical SEO aspects taken care of?
Make sure your technical SEO is in order. Yoast SEO takes care of these things for you. Still, you won't be the first to accidentally have a noindex/nofollow tag in the wrong place. If you're blocking – perhaps even without knowing it! – crawlers from your site, you'll never rank high in Google.
Read more: 8 technical SEO pointers for beginners »
Evaluate your keyword research
A common mistake in content SEO is to aim for keywords that are simply too competitive to rank for. It's understandable that we all want to rank for terms that generate the most traffic. Competition on those terms is killing, though. We can't all rank for the same terms. If you are unable to meet your goals for certain keywords or keyphrases, you might be aiming too high.
Consider ranking for long tail keywords. The longer and more specific your keywords are, the less competitive they'll be. If you focus on many of those long tail keywords, you can generate lots of traffic with those. And, after a while, you'll be able to rank for more head terms as well, as your authority in your domain will increase.
Ranking for competitive search terms is always a longterm SEO strategy. I'm not saying you shouldn't set goals to enter the top 5 in Google on a competitive term. I'm just saying that you should give yourself some time to achieve those goals. In the meantime, set goals on entering the top 5 in Google with more long tail and less competitive keywords. You'll be able to celebrate successes while working towards your ultimate ranking goal.
Keep reading: Keyword research: the ultimate guide »
Evaluate your content
Another reason you're not ranking (yet) could be that your site lacks awesome and SEO-friendly content. A successful SEO strategy requires lots of great quality content. A few thin-content sales pages will not get you in Google's top 10. You need to incorporate several awesome, informative cornerstone content pages. Besides that, writing informative, unique and well-optimized articles and blog posts will do the trick.
When tackling your content to achieve your goals, check the following things: Did you write multiple lengthy articles or blog posts? Are they optimized for the right search terms? Did you update old content? Writing SEO friendly content is a lot of work. It'll pay off, but you need to make an effort. No shortcuts here.
Read on: How to measure the success of your content SEO strategy »
Update that site structure
A third reason why you're not ranking well or attracting as much traffic as you'd like could be that your site's structure isn't up to scratch. If your website is about ballet shoes, you're probably writing many related articles about ballet shoes. But you want to tell Google which of these articles is the most important. Otherwise, you will end up competing with your own content in the search results. That could result in lower rankings for all of your articles.
The best way to improve your site structure is to choose a cornerstone approach. Determine which article on each main topic you're writing about is most important. Link from all other blog posts on that topic to your most important one. Our Yoast SEO plugin has several features to help you improve your site's structure. Using these will do wonders for your SEO!
Conclusion
Whether you reach your goals or not isn't the main issue; you just need to set them. If you don't manage to reach those goals, it's a good starting point to look for the reasons you did not meet them. And that'll allow you to improve your SEO strategy.
Keep on reading: The ultimate guide to site structure »
Coming up next!
Event

March 16 - 17, 2022

Team Yoast is Attending, Speaking SMX Munich, 2022, click through to see if we'll be there, who will be there and more!

See where you can find us next »

SEO webinar

29 March 2022

Our SEO experts Joost de Valk and Jono Alderson will keep you up-to-date about everything that happens in the world of SEO and WordPress.

All Yoast SEO webinars »